The Hotel has very old traditions and gave hospitality to many famous people. One of these was the well-known musician and composer, Gounoud, whose "Ave Maria", they say, was inspired by his contemplations of the lake at sunset.
In 1838, the queen of England stayed there, and it was in her honour that the hotel changed its name to Hotel Royal Victoria.
After the last restoration work in 1981 the Hotel offers the best comforts.


The bright and comfortable lounges provide a refined and attractive atmosphere.
Courteous staff ensure guests receive the best attention.
Giuseppina Pezzini erwarb im Jahr 1838 dieses in der Vergangenheit als Weberei genutzte Bauwerk und wandelte es in ein Hotel mit dem Namen "Hotel Reale" um.
Das Hotel Reale, welches das angesehenste Hotel am Seearm von Lecco war, beherbergte während seiner langen Geschichte Persönlichkeiten aus der ganzen Welt. 1838 hielt sich hier die Königin von England auf und ihr zu Ehren wechselte das Hotel erneut seinen Namen in "Hotel Royal Victoria".
Es heißt auch, dass der bekannte Musiker und Komponist Gounoud hier sein "Ave Maria" komponiert habe.
Seit der endgültigen Restaurierung im Jahr 1981 verfügt das Hotel nun über besten Service und Komfort.
Die hellen, einladenden Zimmer sind gekennzeichnet durch nüchterne und raffinierte Einrichtung und der Gast wird von zuvorkommendem und höflichem Personal umsorgt.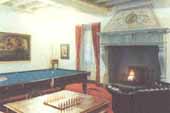 Questo palazzo, che in passato era stato adibito a filanda, fu acquistato nel 1838 dalla signora Giuseppina Pezzini che lo trasformò in albergo chiamandolo "Hotel Reale".
L'Hotel Reale, il più prestigioso del ramo di Lecco, nella sua lunga storia ospitò personalità di tutto il mondo. Nel 1838 vi soggiornò la regina d'Inghilterra e proprio in suo onore l'albergo modificò nuovamente il proprio nome in "Hotel Royal Victoria".
Si dice che anche il noto musicista e compositore Gounoud abbia composto qui la sua "Ave Maria". Dopo il restauro definitivo nel 1981 l'Hotel dispone dei miglior servizi e comfort.
Gli ambienti luminosi e accoglienti sono caratterizzati da un'atmosfera sobria e raffinata e l'ospite è circondato da personale cortese e disponibile.



5 MEETING ROOMS : LAURO (140 pers),
VICTORIA (40-80 pers),
ROYAL (30-60 pers), CAMINO (20 pers),
ROSA (-15 pers)
...It is the ideal place to organize meetings all year long in a quiet and pleasant atmosphere... Das ganze Jahr über der ideale Ort zur Organisation von Kongressen in einer einladenden und ruhigen Atmosphäre …


Proche
de l'hôtel :